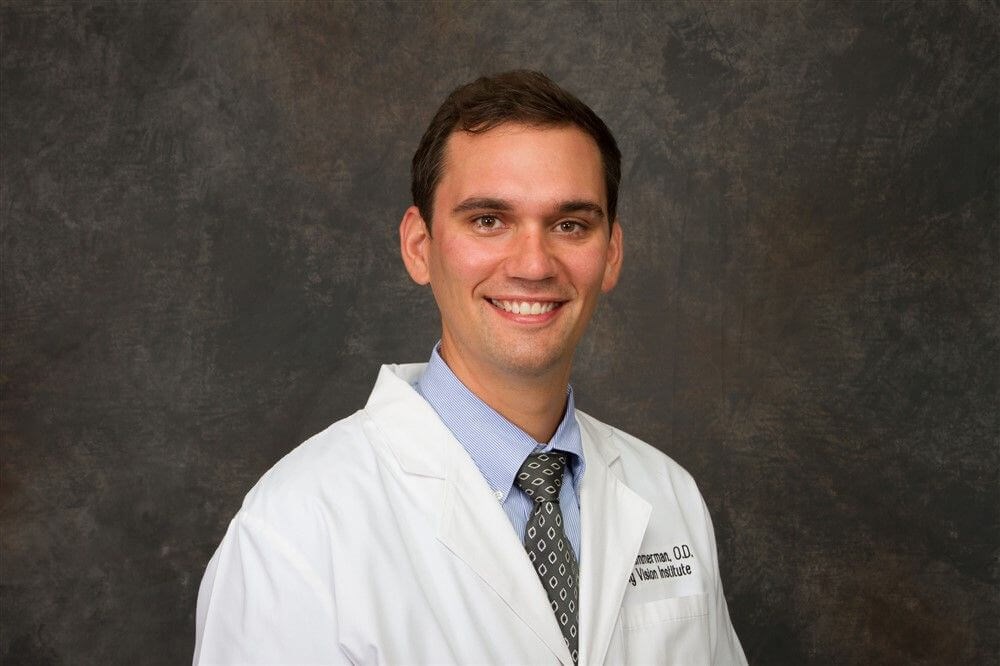 Dr. David Zimmerman serves as a consultative optometrist at Wang Vision Institute. Dr. Zimmerman routinely counsels patients interested in refractive surgery. This includes reviewing options of LASIK, SMILE, PRK, ICL, refractive lens exchange, cataract surgery and the various premium intraocular lenses. Dr. Zimmerman regularly advises patients who suffer from keratoconus. This involves discussing their symptoms and going over their surgical and nonsurgical options for treatment, which can include corneal cross-linking, Intacs, and corneal transplantation. Dr. Zimmerman often sees his patients through every step of their treatment at our office, from pre-surgery preparation to post-operative care.
Dr. Zimmerman is originally from Huntsville, AL and graduated summa cum laude from Auburn University with a Bachelor of Science degree in Biomedical Sciences. He graduated with highest honors from University of Alabama at Birmingham School of Optometry.
His areas of specialty include caring for patients receiving refractive surgery, cataract surgery, premium intraocular lenses, keratoconus surgery, and glaucoma surgery. He personalizes treatment by considering therapeutic options of medication, laser, or surgical intervention. He enjoys pre and post-operative care as well as diagnosing and treating ocular disease. Dr. Zimmerman has written board review questions and lectures on dry eye, refractive surgery, keratoconus treatments, premium lenses and glaucoma management.
Dr. Zimmerman enjoys spending time with friends and family. He and his wife have three children which keeps them very busy. They enjoy spending time outdoors, watching college football, and cooking outside.
Reviews
"I had cataract surgery yrs ago. I can see much better. I only need glasses for reading. My son just had 3d lasik. He had very bad astigmatism. He now has 20/25 vision! Dr Ming Xu Wang is an excellent eye surgeon. He is also a good Christian man. I recommend Dr wang and his staff at Wang Vision institute. Thank you, Dr Ming Wang for all you do to help others with their sight."
P.D.
Facebook
"I'm a 70 yr. retired Architect that had Dr. Wang perform my original Lasik in 2001 - for 15+ years had the pleasure of wearing no glasses or contacts, with excellent vision , especially at night . The past 2 years I've progressed to wearing "drug store" "readers", primarily due to aging and equally, during the same time period, I developed a stigmatism and cataracts. My original "positive" Lasik procedure, encouraged me to pursue the 3-D Laser cataract removal -after 3 wee...ks post surgical procedure , I have experience daily improvement in each eye and with the "Forever Young Lens" enhancement option, My vision is "right at" 20/20 in both eyes and near my vision as a teenager before I needed any type of vision correction. Additionally, and in support of Dr. Wang's chartable mission Wang Foundation supporting and improving vision of blind children world wide and by attending the informational seminars and one of 2 annual free concerts by Dr. Wang playing the Chinese Violin, one of his keys to escaping suppressive regimes of China ,during his childhood , I was fortunate to be awarded one of (2) 50% procedure fee reductions , (1) 100% fee awarded was also won by another attendee . the 50% fee reductions are also offered in several seminars during the year. it's "not enough to say" how extremely satisfied , I am with the results ."
E.R.
Facebook
"I have just read Dr. Ming Wang's book From Darkness To Sight - Journey From Hardship To Healing. I must say that I am impressed by what he did to restore the sight of the people he described in his book (including those who were almost completely blind) and also how his Christian faith contributed to the amazing results. I am also touched by his accounts of how he and his family suffered during the Cultural Revolution in China. May God continue to bless the hands of this amazing surgeon, Dr. Ming Wang!"
E.L.
Facebook
"Dr Wang is the most amazing God loving surgeon we have ever met. This man uses his talent that God gave him to the fullest. We love Dr Wang and all of his staff."
L.A.
Facebook
"Yesterday, someone gave me an entirely new outlook on life and totally changed my view of the world, literally. Countless thanks to my vision guru, laser physicist and brilliant human, Dr. Ming Xu Wang and his terrific team at Wang Vision Institute for the 3D laser cataract procedure with Forever Young 50+ replacement lens. World class. Today, I give him his new moniker... ... 'The Wizard of Eyes' Thanks again, Doc! #thewizardofeyes #nashville #wangvisioninstitute #eyesbywang #3DLASIK"
M.L.
Facebook
Related Posts