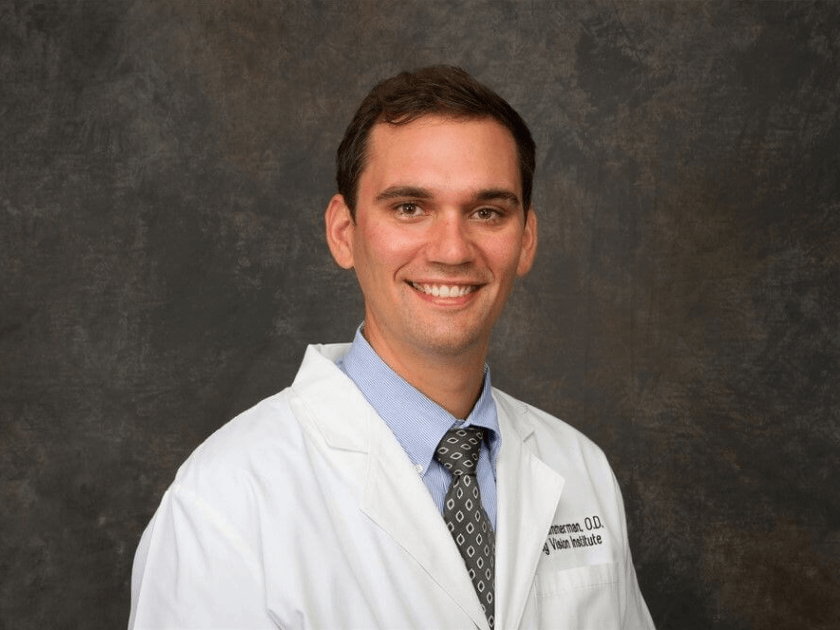 Dr. David Zimmerman serves as a consultative optometrist at Wang Vision Institute. Dr. Zimmerman routinely counsels patients interested in refractive surgery. This includes reviewing options of LASIK, SMILE, PRK, ICL, refractive lens exchange, cataract surgery and the various premium intraocular lenses. Dr. Zimmerman regularly advises patients who suffer from keratoconus. This involves discussing their symptoms and going over their surgical and nonsurgical options for treatment, which can include corneal cross-linking, Intacs, and corneal transplantation. Dr. Zimmerman often sees his patients through every step of their treatment at our office, from pre-surgery preparation to post-operative care.
Dr. Zimmerman is originally from Huntsville, AL and graduated summa cum laude from Auburn University with a Bachelor of Science degree in Biomedical Sciences. He graduated with highest honors from University of Alabama at Birmingham School of Optometry.
His areas of specialty include caring for patients receiving refractive surgery, cataract surgery, premium intraocular lenses, keratoconus surgery, and glaucoma surgery. He personalizes treatment by considering therapeutic options of medication, laser, or surgical intervention. He enjoys pre and post-operative care as well as diagnosing and treating ocular disease. Dr. Zimmerman has written board review questions and lectures on dry eye, refractive surgery, keratoconus treatments, premium lenses and glaucoma management.
Dr. Zimmerman enjoys spending time with friends and family. He and his wife have three children which keeps them very busy. They enjoy spending time outdoors, watching college football, and cooking outside.
Reviews
"I had gone for an evaluation a few weeks back to determine if Lasik was a good option so I could stop wearing glasses after 17 years. I had the procedure three days ago, there was and is no pain, and as of day 3 after Lasik I'm already seeing much more clearly."
Anonymous
RateMDs
"The ideal experience at Wang Vision Institute. I initially came in for a consult in April of 2022 and was planning for a same day procedure which isn't uncommon for patients who come in for laser surgery. I was provided thorough and prompt instructions and guidelines via email prior to coming in. Once in the office, the staff completed the initial tests/exams to determine if I was a candidate for Lasik and/or SMILE. I was a candidate for both, fortunately and ultimately opted for SMILE because of my "high prescription", over -4.0 in each eye. Right before the procedure when getting ready to pay, I ran into a hiccup with my FSA provider that unfortunately resulted in me postponing my procedure to a future date. The staff and my coordinator were understanding and had no issues whatsoever - they went above the call of duty to help me try and resolve the issues with my FSA and kept in touch in the meantime. Once the FSA issue was resolved, I rescheduled and had a great experience - once again. The surgery went very smoothly and I had 20/20 vision by the next day, with improvements still on the horizon. Couldn't be happier that I won't need to deal with contacts/glasses for many many years! The procedure itself was painless, a slight amount of pressure (and let's be honest, there are many doctors visits in life when they say you might feel "slight discomfort, or pressure" and sometimes that discomfort and pressure feels a lot more intense than you were expecting)..but in this case, with my right eye I don't think I felt hardly anything! The left eye, I felt a bit more pressure but no pain. Almost like a 5 second headache which quickly resolved. The post ops instructions were clear and laid out prior to the surgery and we were provided everything we needed before the surgery. The only item needed that wasn't provided was prescription eye drops, which they called in to my pharmacy before we left. As a tip for future patients, it's called Moxifloxacin, and you will have to pay out of pocket for this. I recommend finding a discounted price on GoodRx, so when you let them know your pharmacy, they can send it to one with the price you want. Because it would have been $90-150 pharmacy rate, but we got it for $20 at Publix and it was only $13.99 on GoodRx at Costco. Lessons learned! All in all, a wonderful experience without a hitch. Dr. Wang was kind and thoughtful. I'm not an anxious person around medical persons or procedures, but I know for people who may have more anxiety, the staff and Dr. Wang will take amazing care of you and help you feel at peace. 😊 As far as costs go, you will pay per eye and there are some additional "per eye" costs that are additional and some upgrade packages. I would classify it as an investment that is well worth it but make sure you have a good understanding of the costs before committing. SMILE is more expensive than Lasik because it's a newer technology. But recognize, this was not an inexpensive investment and maybe something you'd like to weigh based on your current prescription and investment in eye care regularly. With annual visits, new lens and glasses annually for me, and $200 worth of 2-week contacts per year, it will pay itself off in a short while. The price of the years of convenience is something to consider as well! The base price also includes post op visits, the procedure, and the post op materials. Altogether, I couldn't be happier and I have a feeling the more I heal, the happier I will be with the results. I was 20/20 the day after procedure and it will continue to improve over the days and weeks ahead. Thank you to the team and Dr. Wang for my vision back, such a gift!"
C.C.
Google
"Our daughter had Smile today!!!! So far so good!!! What a blessing he is!"
S.D.
Facebook
"Everything was thorough, and the attention to detail was immaculate. Dr. Wang described what he was doing in detail as he was performing the procedure which I found quite reassuring. Most of all, he is very open about his Faith with out being overbearing at all. He was quite humble as a man before God, and he asked if he could pray over me just before surgery and this gave me a lot of peace."
B.C.
Google
"I had lasik done with Dr. Wang and I couldn't be happier with my experience! I had my consult with dr. Zimmerman 2 months prior to the actual procedure and he was so kind and informative. On the day of the procedure, dr. Wang and his assistant, gaby, were so pleasant. He talked me through the entire thing as it was happening and gaby was helpful with keeping me calm and relaxed. The office has been great with scheduling my follow ups and was so helpful with squeezing in for an additional follow up when i had a concern. I highly recommend them :)"
C.M.
Google
Related Posts