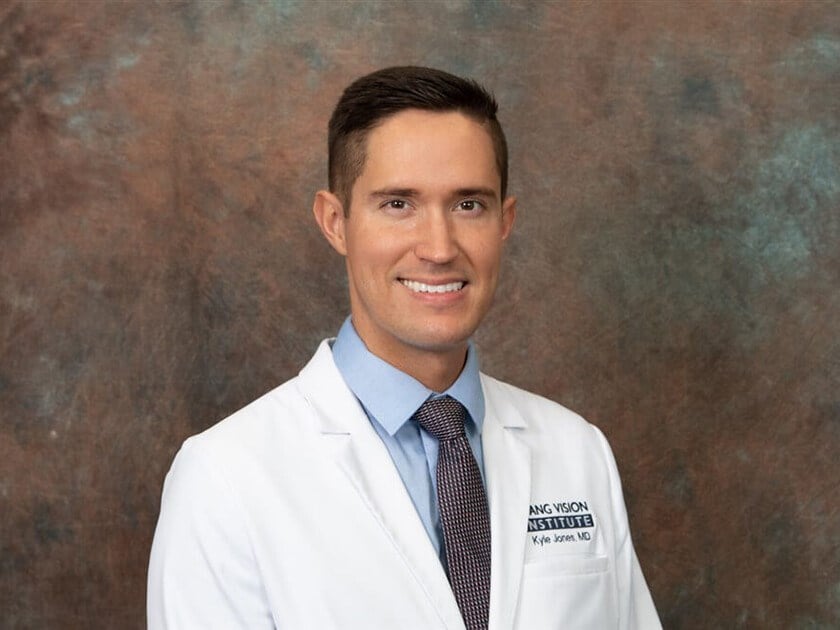 Dr. Kyle Jones is an esteemed ophthalmologist specializing in Cataract and Refractive Surgery at Wang Vision Institute. Dr. Jones performs a wide range of surgery including Laser Cataract Surgery, Refractive Lens Exchange, LASIK, SMILE, PRK, EVO ICL, Corneal Crosslinking and Intacs for Keratoconus, and minimally invasive glaucoma surgery(MIGS). He also manages dry eye diagnoses, offering several treatment options. Dr. Jones also performs Intense Pulsed Light (IPL) treatments for both dry eye and cosmetic skin concerns, and injects Botox.
Dr. Jones graduated cum laude with his B.S. from the University of Florida College of Liberal Arts and Sciences, then graduated with Honors in Research from The University of Florida College of Medicine where he received his Doctor of Medicine degree. He completed his ophthalmology residency at Yale, receiving the Academic Excellence Award, and then completed a refractive fellowship at the John A. Moran Eye Center at the University of Utah.
Dr. Jones has had numerous journal publications and has lectured on a variety of research topics in ophthalmology. He is a member of the American Academy of Ophthalmology, American Society of Cataract and Refractive Surgery, and American Medical Association. He is board-certified by the American Board of Ophthalmology, and in July 2023 he was named one of the "Top Doctors" in Nashville Lifestyles Magazine.
Reviews
"Went for a consult and had lasik surgery that day. Cameron was my coordinator and he was super helpful in explaining the options available. Dr. Jones preformed the procedure and made me feel very comfortable the whole time. Being able to see the next day without contacts after wearing them for 28 years is amazing! I would highly recommend them for lasik. I should have come a long time ago!"
S.R.
Google
"I can't recommend Wang Vision Institute enough - I had an excellent experience getting their SMILE (small incision) treatment. The consultation and surgery were easy and smooth, and I am very impressed with the improvements in my vision and easy recovery only 3 days after surgery. Dr. Jones, Cameron and Scott were incredibly helpful and were great sources of frank and grounded information, and made the surgery itself a low-stress process. Bottom line, if it makes sense for you financially (and that can be made easier with financing through CareCredit), I would not go anywhere else for laser vision treatment."
K.D.
Google
"I had my ICL procedure 2 days ago and it's amazing to have 20/20 vision after 30+ years of wearing glasses. The procedure was quick, no pain and very minimal discomfort. I would hands down recommend this procedure to anyone who has a high prescription and desires to see clearly without the use of contacts or glasses. I cannot thank Dr. Jones, my care coordinator, Cameron and the entire staff at the Wang Institute."
D.C.
Google
"Dr.Jones was great and everyone there was very nice. The surgery itself was very easy, painless, and great results! I'd recommend them to anyone for LASIK."
V.G.
Google
"I had the best experience at Wang Vision Institute. Dr. Jones performed my lasik surgery, he did an excellent job. Thank you Dr. Jones and the staff at Wang Vision."
S.
Google