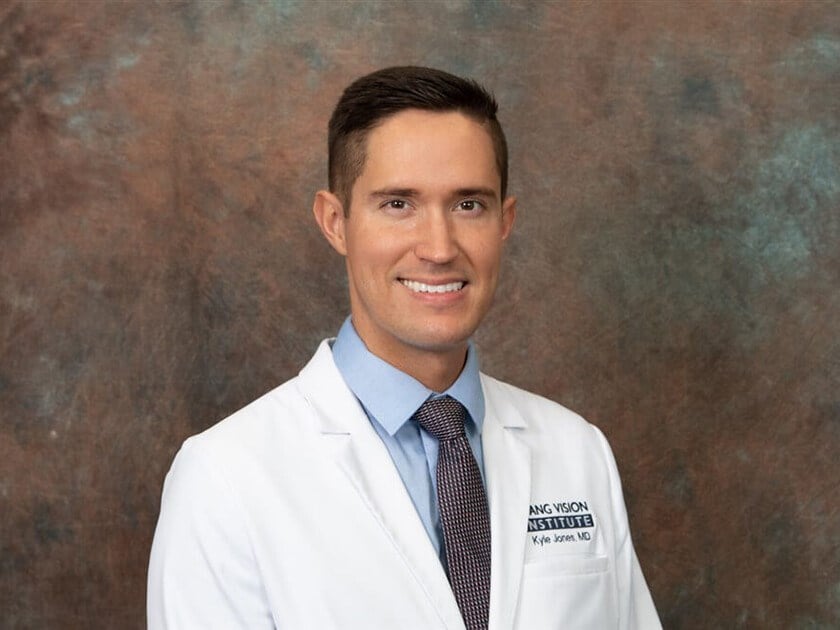 Dr. Kyle Jones attended the University of Florida where he received his Doctor of Medicine degree. He completed his ophthalmology residency at Yale and a refractive fellowship at the John A. Moran Eye Center at the University of Utah. Dr. Jones has had numerous journal publications and has lectured on a variety of research topics in ophthalmology. In his spare time, Dr. Jones enjoys hiking, biking, traveling, and cooking.
Reviews
"What a great experience! Was able to finish the consultation and SMILE procedure all in a single day! These folks were incredibly helpful in making the decision and improving my terrible vision. Cameron made the financing very easy and what a no brainer to fix my eyesight. Beware of other institutions offering too good to be true pricing, these folks do it right. Both Dr. Jones and James made the procedure painless and professional. Can't thank them enough for helping me to see without contacts or glasses. Could not recommend Wang Vision institute enough for their help, what a great experience!!"
Anonymous
Healthgrades
"Job well done!!! Congratulations on a fine working team. I personally want to say thanks to the entire team but a few people stand out to me from the first phone call to the helpful hands passing me back into my husband arms... Janeane, Baileah Kell, the first young lady who called my name to start the process (I'm sorry I can't remember her name), Dr. Zimmerman, Cameron, Scott, James, and Dr. Jones Each of you have a special talent and role on your team. We want to say thanks for taking the time to care and share your knowledge with us to help us make a wise decision on our journey with you. Your care after we left the clinic was extremely helpful with giving me a number to call for any questions or concerns, and Dr. Jones calling me the next day to check in with me was also very comforting. Thanks for giving me a great vision that I've not experienced in Over 43 years!! High five to the entire team. Keep up the good work. Thanks again, Penny & Trent Price"
P.P.
Google
"Great experience. I had a quick and painless surgery. Cameron was transparent about pricing and Dr. Jones and Scott were great at conducting the SMILE operation."
Y.X.
Yelp
"I had a wonderful experience at Wang Vision! My coordinator, Clare, was incredibly helpful and always a phone call away. Dr. Jones was very thorough and helped make my decision for the SMILE versus Lasik very simple by explaining the pros and cons of each. Another shoutout I would like to make is for an employee named Scott. He was incredibly great with prep work, and very easy to talk to before the procedure which helped calm my nerves down big time. I highly recommend Wang Vision Institute for anyone considering any eye procedures done!"
C.S.
Google
"I had the SMILE operation at WVI. It was very quick and the staff were all very helpful. Cameron was accommodating and transparent when discussing prices and Dr. Jones and Scott made the surgery quick and painless. Overall a great experience that I'd recommend others to."
Y.X.
Google