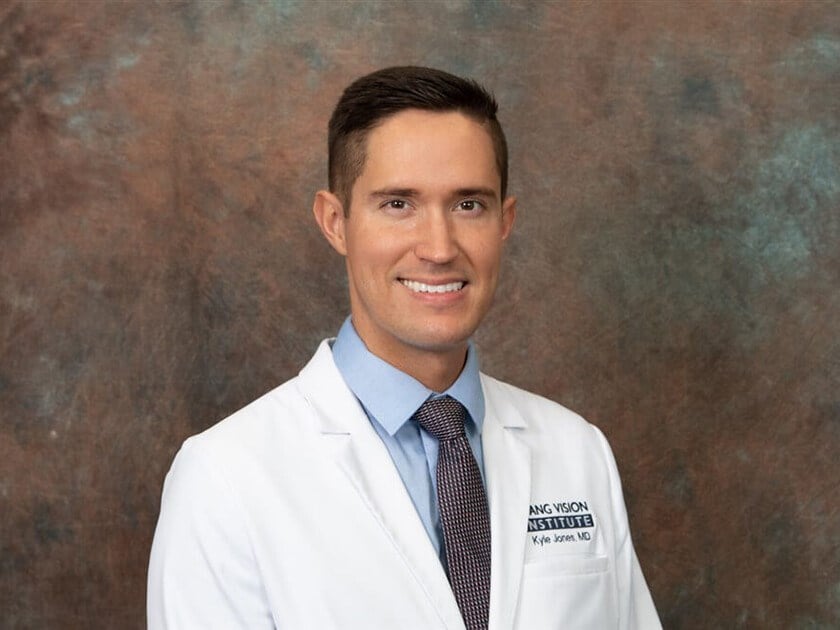 Dr. Kyle Jones attended the University of Florida where he received his Doctor of Medicine degree. He completed his ophthalmology residency at Yale and a refractive fellowship at the John A. Moran Eye Center at the University of Utah. Dr. Jones has had numerous journal publications and has lectured on a variety of research topics in ophthalmology. In his spare time, Dr. Jones enjoys hiking, biking, traveling, and cooking.
Reviews
"I've worn glasses since second grade. Finally I decided to get ICL surgery (implantable collamer lenses) since I found out I wasn't a candidate for lasik, and I am so glad I did! All of the employees at Wang Vision Institute were wonderful. Dr. Jones and his team provided excellent care during and after my procedure. They answered all my questions and helped ease my anxiety about the surgery. The next day after surgery, I was already seeing 20/20! I recommend them to anyone that is considering any type of eye surgery. It was one of the best decisions I have ever made. Thank you Wang Vision Institute!! I couldn't be happier! "
L.D.
Healthgrades
"Before coming to Wang Vision, I was wearing contacts for 8 years and my vision just kept getting worse and worse every year (-6.50 on both eyes). Before I knew it, I was able to read in 20/20 vision 24 hours after my surgery. I had the SMILE procedure done and it took 45 minutes. Dr. Jones is an amazing eye surgeon and Dr. Zimmerman was very knowledgeable and answered any concerns I had about my eyes before the surgery. This surgery is most definitely a life changing experience! If you are considering either LASIK or SMILE, go to Wang Vision!"
A.M.
Google
"Had such a wonderful experience! Went in for a consultation and was approved for both SMILE and Lasik. Ended up going with the SMILE procedure, same day! Everyone there was so lovely and friendly--- which was helpful as I was pretty nervous. The procedure was so much better than anticipated, I did not feel a thing and the recovery was very easy too! I feel super lucky! The individuals in the room with me during the procedure were very sweet and talked me through what was happening. To top it off-- Thanksgiving was the next day and Dr. Jones, who did the procedure, called me on the holiday just to check in and see how I was doing. So beyond nice for him to do on a holiday. Can't say enough nice things and now I see so well! An overall win."
L.S.
Google
"A month ago I had life changing corrective eye surgery. I had Implantable Collamer Lenses permanently implanted in my both of eyes behind my irises and in front of my natural lenses, essentially curing my blindness. I have been legally blind since I was a child with severe nearsightedness and astigmatism that made me an ineligible candidate for lasik surgery . I sought help from The Wang Vision Institute and I was eligible for alternative ICL surgery. Dr Jones at The Wang Vision Institute successfully cured my blindness taking me from 20/200 to 20/20 in the first week. I am forever grateful to my surgeon and the wonderful team at The Wang Vision Institute who are performing modern day miracles."
D.T.
Google
"I saw Dr. Kyle Jones for ICL surgery. I've been extremely nearsighted all my life and it was the best decision I've made. I had surgery in September and wanted to wait to give a full review. Everything has turned out fantastic, I can see better than I ever could in glasses or contacts. Dr. Jones was awesome. He explained everything and was able to answer all my questions. I also really appreciated all the staff they were all wonderful. I would definitely recommend!"
M.J.
Google