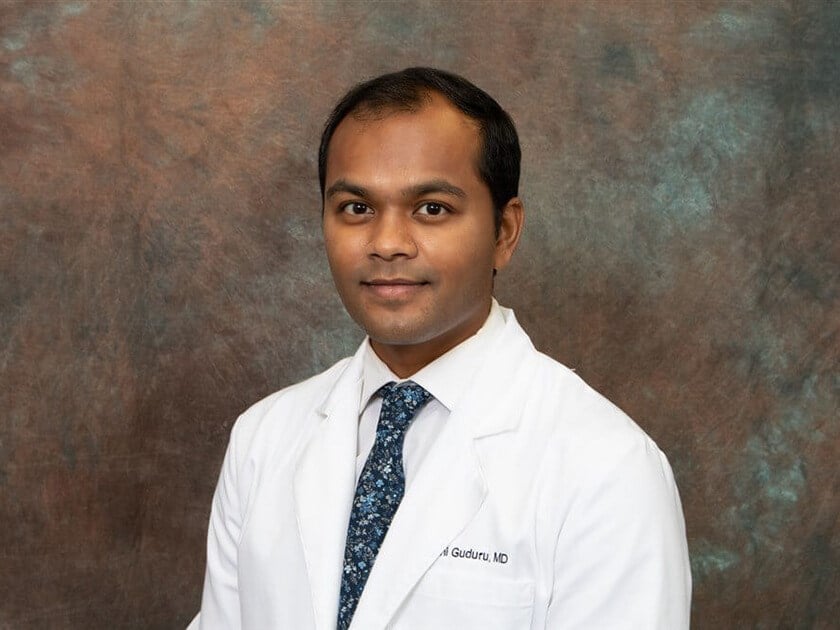 Abhi Guduru, MD is a highly regarded Cataract and Refractive Surgeon at Wang Vision Institute and has been featured as a Top Doctor in the Nashville Lifestyles Magazine. His goal is to provide tailored optimal visual quality for each patient's individual demands. His skills include refractive laser cataract surgery, laser vision correction (LASIK/ZEISS SMILE/PRK), minimally invasive glaucoma surgery (MIGS), dry eye management, and BOTOX for cosmetic and medical purposes.
Dr. Guduru went to Johns Hopkins University where he graduated with the highest honors with a double major in Biomedical Engineering and Applied Mathematics as well as a minor in Entrepreneurship and Management. Afterward, he went back to his home state and received his medical degree from the University of North Carolina-Chapel Hill. Next, he went to the esteemed Duke Eye Center for his ophthalmology residency and completed a high-volume private practice cataract and refractive surgery fellowship with ophthalmology leader Dr. Mitch Jackson.
Dr. Guduru is a member of the American Academy of Ophthalmology and the American Society of Cataract and Refractive Surgery (ASCRS). He received 2nd place for his project on Quantifying Post Operative Satisfaction in Premium IOL Patients at ASCRS 2022. He also has international experience interning previously at the LV Eye Prasad Institute in Hyderabad, India.
Outside of work, Abhi Guduru enjoys spending time with his wife and family. He enjoys traveling, eating great food, movies, and basketball.
Reviews
"Had a great experience with WVI! Every staff member and doctor was extremely patient and made me feel at ease while answering any questions I had. Shout out to Scott, Karen, Kayla, Dr. Wish and Dr. Guduru!"
M.F.
Google
"I'm so glad I decided to have SMILE LASIK done at Wang Vision Institute. The staff, Kayla in particular, and Dr. Guduru were so helpful. I went from not being able to see much of anything without my glasses, to having 20/15 vision in a day!"
T.B.
Google
"Amazing experience from start to finish! Absolutely no complaints. The entire staff was so kind and patient, professional, knowledgeable, and friendly. Dr. Guduru did my SMILE surgery and it went perfectly. Highly recommend!"
J.M.
Google
"Dr. A.S. Guduru did an excellent job!"
G.H.
Google
"I had an absolute amazing experience at wang vision! Dr. Guduru did an absolutely amazing job with my LASIK they talked me through everything. Throughout my consult I had an amazing experience with the staff! Dr. Wish did my consult and we loved him and Cameron and Karen helped me get everything logistic wise taken care of. Overall I had an amazing experience and would recommend wang vision to anyone!"
T.C.
Google