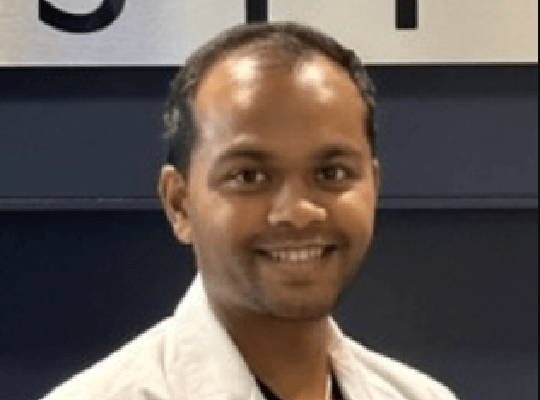 Dr. Abhi Guduru attended Johns Hopkins University and the University of North Carolina Chapel Hill, where he received his Doctor of Medicine degree. He completed his ophthalmology residency at Duke University, and a refractive fellowship at Jacksoneye in Chicago, IL. Dr. Guduru has had numerous journal publications and has given presentations on a variety of topics in ophthalmology. In his spare time, Dr. Guduru enjoys cooking Indian food, traveling, meditating, and reading.
Reviews
"My girlfriend received SMILE eye surgery to correct her vision. The surgery went flawlessly, the staff reassured her throughout the whole process, and overall I can't think of a safer/more professional place to receive eye surgery. On top of that, her vision was 20/20 the next day!"
V.S.
Google
"Wang Vision Institute was so thorough with their exam and everyone was very friendly and helpful. They are also efficient and did the surgery the same day! Great experience!"
L.F.
Google
"One word to describe the experience is perfect. I schedule a consultation in which it was free. They informed me about all the types of procedures there is.I have very high long sightedness and astigmatism. I qualified for all of procedures but recommended me for the SMILE procedure. On surgery day 11/07/22 they went over the DOs and DONTs post surgery. It was my first surgery but I was not nervous I had faith everything was going to go well. Dr.wang and the nurses made sure I was taken care off. The doctor prayed for me before the surgery which gave me more reinsurance everything was going to be okay. The surgery went very well, I had no pain I only experience blurriness which is very normal. Gave me all the drops I need to take. After surgery I made sure to keep my eyes closed as much as possible. Today as I am writing this on 11/08/22 I had post surgery appointment in which they checked my eyes told me I have 20/20 vision. My recovery is doing well as they expected it to be. Made sure I have all the drops I need to be taking. Overall the nurses and doctor made everything very clear. I'm very thankful for the staff. I recommend it if you qualified for it."
M.V.
Google
"Dr. Ming Wang is truly a gem in the industry. The office is upscale and clean; the staff is friendly, kind and genuine. You can tell he is a pioneer in the vision world, makes you feel very comfortable before the procedure, speaks to you by name during the surgery which makes you feel very much at ease. I also love that Dr. Wang is charismatic and is so proud of his journey. At the end of my successful procedure, he gave me a book written about his life. Cannot wait to read it. I chose to get SMILE instead of traditional Lasik. It was explained to me as a less invasive, safer version of Lasik. What they say about waking up the next day and being able to see is true. I'm very happy in my choice to go to Wang Vision Institute. Highly recommend."
S.H.
Google
"The customer service that Dr Wang and his staff provides is amazing! Everyone there seems to genuinely love their job and you can tell as a patient that they actually care! The "smile" surgery is basically painless with just a small amount of pressure, and they were able to fix my higher prescription to 20/20! I would recommend Wang Vision to anyone!"
C.B.
Google