Wang Vision was the first center in the state to perform ZEISS SMILE, the small-incision laser vision procedure.
ZEISS SMILE (small incision lenticule extraction) is a newly developed laser vision correction surgery that was first performed in Tennessee here at our Nashville office. Like LASIK, ZEISS SMILE is a bladeless, refractive eye procedure that alters the shape of the cornea to improve a patient's vision. However, ZEISS SMILE has unique advantages over LASIK in that it is less invasive, requires a smaller incision, and doesn't require a flap, which produces fewer post-operative complications. At Wang Vision Institute, we are pleased to offer this revolutionary new treatment for individuals who want to achieve clearer, more precise vision without the help of glasses and contacts.
People often ask how refractive surgery works. In order to see clearly, light must enter the eye through the cornea and lens. The cornea then refracts (bends) the light so that it's able to precisely hit the retina. However, when a refractive error is present, the cornea is not able to focus the light on the retina, which causes an individual's vision to appear blurry or unfocused. To treat these issues, refractive laser surgeries are performed in high volume across the country. Treatments, such as LASIK, PRK, and now ZEISS SMILE are able to reduce a patient's dependence on prescription eyeglasses and contact lenses and grant individuals clear sight.

ZEISS SMILE Reviews
"Very thorough from beginning to end. I had SMILE done and am very happy with the results thus far (3days after). I was quite nervous but everything was explained and during the procedure with Dr. Guduru there was support staff to talk me through what was happening, even reminders to breathe which was needed. Cameron went over pricing with us and explained the different options well. Although somewhat pricey, well worth it and they have taken care of me. Highly recommend."
- S.K. /
Facebook /
Jul 24, 2023
"I'm 2 weeks post op and haven't had any issues whatsoever with my vision. I had the SMILE procedure done and I haven't experienced dry eye (in contacts I constantly had dry eye). The procedure took about 4-5 minutes per eye and the doctor and technicians were in the room talking to me throughout the entire procedure. Oddly, it was quite a relaxing experience."
- R.A. /
Google /
Jul 29, 2023
"Very thorough from beginning to end. I had SMILE done and am very happy with the results thus far (3days after). I was quite nervous but everything was explained and during the procedure with Dr. Guduru there was support staff to talk me through what was happening, even reminders to breathe which was needed. Cameron went over pricing with us and explained the different options well. Although somewhat pricey, well worth it and they have taken care of me. Highly recommend."
- S.K. /
Google /
Jul 24, 2023
"The staff at Wang vision institute are very friendly and professional, especially the coordinator Kayla and my surgeon Dr. Jones. I came in to have lasik but they educated me about a new procedure called SMILE which involves less recovery time. They walked me through every step of getting my eye procedure done and made me feel very comfortable with everything. I got the surgery done on Friday, and by Saturday I was able to see without the use of glasses anymore. My follow up on Monday showed that I had 20/20 vision. I would recommend Wang Vision Institute to anyone looking to have Lasik or SMILE done."
- R.A. /
Google /
Aug 04, 2023
"What an incredible experience! I was nervous to get SMILE (a LASIK adjacent procedure), and I can't stress how well this team took care of me. Scott was the first person I met and he was very informative and hysterical. Next I met Dr. Wish-- he was knowledgeable and provided a laundry list of options and services that would help me accomplish my goal of never having to use glasses or contacts again! Cameron was fabulous in providing payment options. Dr. Jones was my surgeon and he was as quick and efficient as they come. I was very nervous for my surgery (just ask anyone listed above), and James (surgeon tech) made me feel so comforted and even held my hand when I needed it most! I would choose this team again in a heart beat!!!! If you're on the fence about LASIK, this is your sign to do it!"
- S.C. /
Google /
Aug 04, 2023
Previous
Next
What are the benefits of ZEISS SMILE?
At Wang Vision Institute, our eye care professionals are proud to be offering ZEISS SMILE – a small-incision LASIK procedure for a number of reasons. There are several benefits of a ZEISS SMILE procedure, including:
Typically less invasive than traditional LASIK since no flap needs to be made
Improved vision
Quick and effective treatments, usually takes around 20 minutes
Comfortable treatments with the use of numbing drops
The ability to return to your normal daily life 1 – 2 days after treatment
Who is a CANDIDATE for smile?
The patients who are most likely to benefit from ZEISS SMILE are individuals who:
Are 21 years of age or older
Have myopia (nearsightedness) between -1.00 – -10.00 diopters
Have mild to moderate astigmatism (up to 3.00 diopters)
Are in good overall health
Possess healthy corneas
Have realistic expectations for the outcome of their laser vision correction procedure
To determine your candidacy for ZEISS SMILE, you will first meet with one of our eye surgeons and receive a comprehensive eye evaluation. We will ask about your medical history, assess your eye health, and discuss what you hope to get out of laser vision surgery. Some individuals who meet the above criteria may not qualify to receive this treatment if they have an unstable (changing) eyeglass prescription, certain eye conditions or diseases, uncontrolled diabetes, are pregnant, or have certain eye infections.
WHAT TO EXPECT during ZEISS SMILE surgery
Prior to your surgery, our ophthalmologists will take specific measurements of the structures of your eye (such as the cornea's surface, its thickness, and the size of your pupil). These measurements will be programmed into the laser to ensure that the most accurate and precise result is achieved.
We will first numb your eye using special anesthetic drops and place a device over the eyeball to prevent any blinking or other movements. our ophthalmologists will then use their intuitive laser technology to carve out a disc-shaped section of the cornea below the surface of the eye (the lenticule). A tiny incision less than 5mm in size will then be made into the cornea, giving our ophthalmologist access to the disc-shaped section that was created by the laser. This disc is then removed, resulting in a reshaped cornea that allows light to land on the retina with better precision. With this technique, the cornea is able to retain more of its natural strength. Your ZEISS SMILE procedure will be completed here at our office in about 10 – 15 minutes.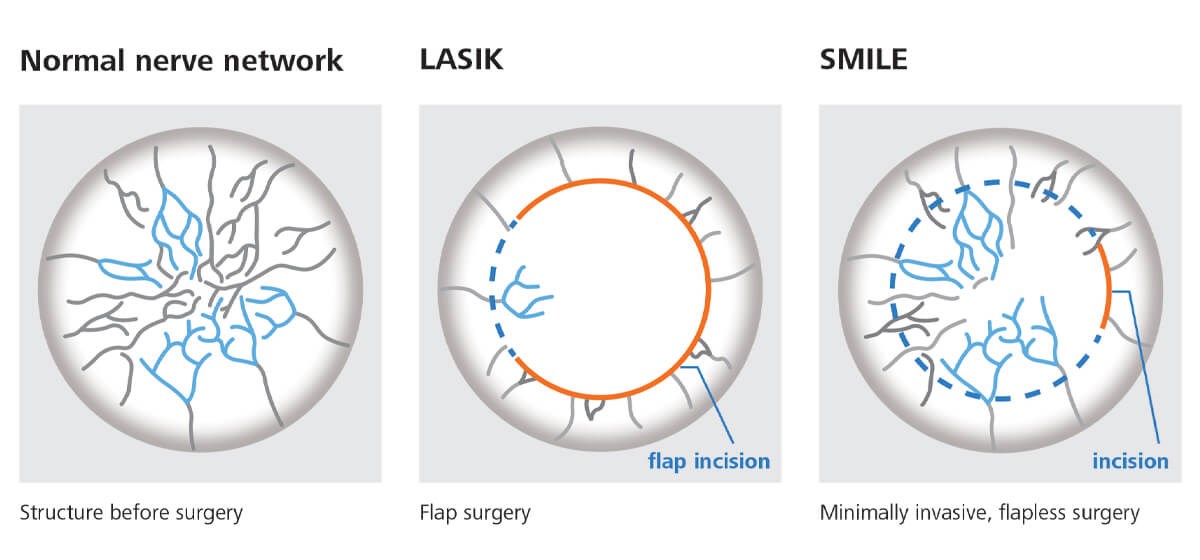 How long is recovery after smile?
Following your ZEISS SMILE procedure, you will need to have a reliable adult take you home. We advise most of our patients to nap or relax for the rest of their day following any refractive surgery. A member of our team will prescribe you eye drops to administer for a period of time as you recover. Some individuals report experiencing blurry vision after ZEISS SMILE, but this will fade away in a few days as your eyes heal and adjust. You will be able to return to your daily tasks after 1 – 2 days post-op. You should also attend your scheduled follow-up appointments at our Nashville, TN office so we can monitor your vision progress and recovery.
Is ZEISS SMILE surgery painful?
You will remain awake during your ZEISS SMILE procedure. However, numbing eye drops will be used prior to the procedure to help you remain comfortable. You will experience a feeling of numbness in your eye, but there should be no pain or discomfort.
How long does ZEISS SMILE surgery take?
Though it can range a little between patients, ZEISS SMILE surgery often only takes about 20 minutes. This includes both eyes, and our Nashville, TN eye surgeons will let you know what you can expect before, during, and after your procedure. We will also provide the necessary aftercare instructions to ensure optimal results.
Will I have restored vision after ZEISS SMILE surgery?
Immediately after your ZEISS SMILE procedure, your eyes will begin healing. You may experience some fluctuations within your vision during the healing process. Full restoration of your vision may take some time, but many patients experience improved vision within hours after surgery.
Is ZEISS SMILE safe?
Yes, ZEISS SMILE has a strong safety profile. It's FDA-approved and has been performed on thousands of patients worldwide. Complications are rare, but it's still essential to discuss potential risks with your eye care specialist at Wang Vision Institute.
How long will it take before I see final results?
Most patients experience a noticeable improvement in vision almost immediately after the ZEISS SMILE procedure. However, it can take up to a few weeks for your eyes to fully stabilize and for you to enjoy the final results.
What are the advantages over traditional LASIK?
ZEISS SMILE offers several benefits over traditional LASIK. One of the main advantages is the smaller incision required, which means less disruption to the corneal tissue. This typically results in faster recovery and reduced risk of complications like dry eyes. The procedure is often described as less uncomfortable, making it a more appealing option for many.
restore your vision with minimal recovery
Wang Vision Institute is proud to provide our patients with the most effective options to improve their vision and reduce their dependence on glasses and contact lenses. We continue to stay at the forefront of performing industry-changing techniques that are steadily gaining traction throughout the country. One such technique, small incision lenticule extraction (ZEISS SMILE), is helping individuals achieve clearer, restored vision with fewer complications than even LASIK. To learn more about this revolutionary treatment and if you could qualify, contact our Nashville, TN ocular center and set up your consultation with a member of our team.
Related Procedures
Related Posts