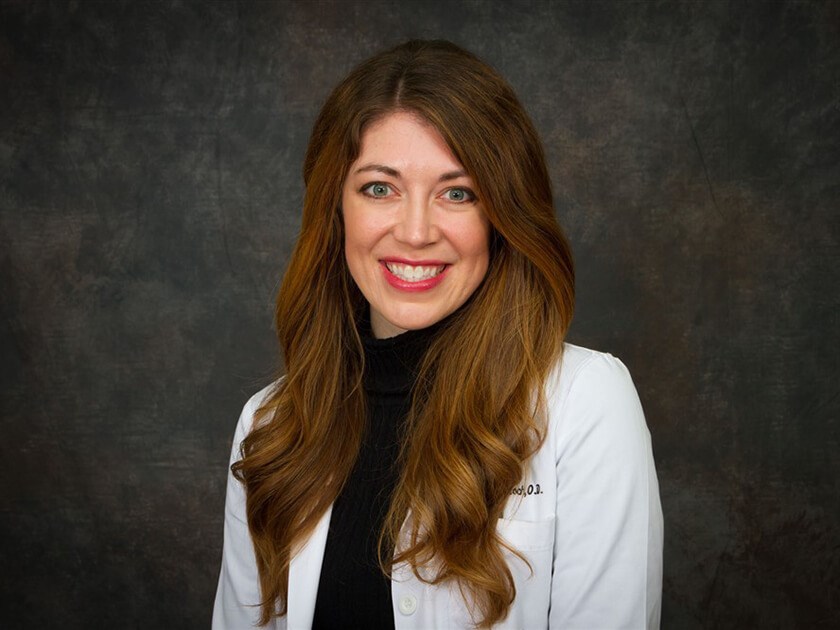 As a consultative optometrist, Julianne Koch enjoys seeing patients of all ages with a wide range of concerns. With a doctor of optometry degree, as well as several years of practicing in a medical optometry and ophthalmology settings, Dr. Koch is able to detect, treat, and manage a range of conditions, injuries, and ocular diseases that affect the wellness of our many patients. With plenty of diverse experience under her belt, Julianne brings her positive attitude to every patient she encounters.
Dr. Koch completed her undergraduate education at University of Arkansas, Fayetteville where she earned her bachelor's degree in Biology. Following this she attended the Southern College of Optometry in Memphis, TN. After graduation, she practiced in Little Rock, Arkansas in an Ophthalmology clinic for two years before moving to Middle Tennessee to practice at an Ophthalmology clinic in Murfreesboro, TN. Because of this experience, Dr. Koch has extensive knowledge from managing diseases such as glaucoma, cataracts and dry eye disease.
As a credentialed optometrist with a doctorate, specialized training, and state licensure, Dr. Koch is able to identify, diagnose, and treat a range of conditions and disorders that affect the eyes and their related structures. She also performs routine eye exams and is able to assess the health of a patient's eyes following an injury. Her special interests include offering premium intraocular lenses and dry eye treatment and management to those who need it.
In her free time, Dr. Koch enjoys yoga, hiking, camping, and anything outdoors. She lives in East Nashville with her husband and two dogs. She also likes reading and runs a women's book club. Dr. Koch and her husband are both Arkansas Natives and University of Arkansas Alumni. They enjoy watching Razorback sports and rooting on the Hogs.
Reviews
"I had cataract surgery yrs ago. I can see much better. I only need glasses for reading. My son just had 3d lasik. He had very bad astigmatism. He now has 20/25 vision! Dr Ming Xu Wang is an excellent eye surgeon. He is also a good Christian man. I recommend Dr wang and his staff at Wang Vision institute. Thank you, Dr Ming Wang for all you do to help others with their sight."
P.D.
Facebook
"I'm a 70 yr. retired Architect that had Dr. Wang perform my original Lasik in 2001 - for 15+ years had the pleasure of wearing no glasses or contacts, with excellent vision , especially at night . The past 2 years I've progressed to wearing "drug store" "readers", primarily due to aging and equally, during the same time period, I developed a stigmatism and cataracts. My original "positive" Lasik procedure, encouraged me to pursue the 3-D Laser cataract removal -after 3 wee...ks post surgical procedure , I have experience daily improvement in each eye and with the "Forever Young Lens" enhancement option, My vision is "right at" 20/20 in both eyes and near my vision as a teenager before I needed any type of vision correction. Additionally, and in support of Dr. Wang's chartable mission Wang Foundation supporting and improving vision of blind children world wide and by attending the informational seminars and one of 2 annual free concerts by Dr. Wang playing the Chinese Violin, one of his keys to escaping suppressive regimes of China ,during his childhood , I was fortunate to be awarded one of (2) 50% procedure fee reductions , (1) 100% fee awarded was also won by another attendee . the 50% fee reductions are also offered in several seminars during the year. it's "not enough to say" how extremely satisfied , I am with the results ."
E.R.
Facebook
"I have just read Dr. Ming Wang's book From Darkness To Sight - Journey From Hardship To Healing. I must say that I am impressed by what he did to restore the sight of the people he described in his book (including those who were almost completely blind) and also how his Christian faith contributed to the amazing results. I am also touched by his accounts of how he and his family suffered during the Cultural Revolution in China. May God continue to bless the hands of this amazing surgeon, Dr. Ming Wang!"
E.L.
Facebook
"Dr Wang is the most amazing God loving surgeon we have ever met. This man uses his talent that God gave him to the fullest. We love Dr Wang and all of his staff."
L.A.
Facebook
"Yesterday, someone gave me an entirely new outlook on life and totally changed my view of the world, literally. Countless thanks to my vision guru, laser physicist and brilliant human, Dr. Ming Xu Wang and his terrific team at Wang Vision Institute for the 3D laser cataract procedure with Forever Young 50+ replacement lens. World class. Today, I give him his new moniker... ... 'The Wizard of Eyes' Thanks again, Doc! #thewizardofeyes #nashville #wangvisioninstitute #eyesbywang #3DLASIK"
M.L.
Facebook
Related Posts