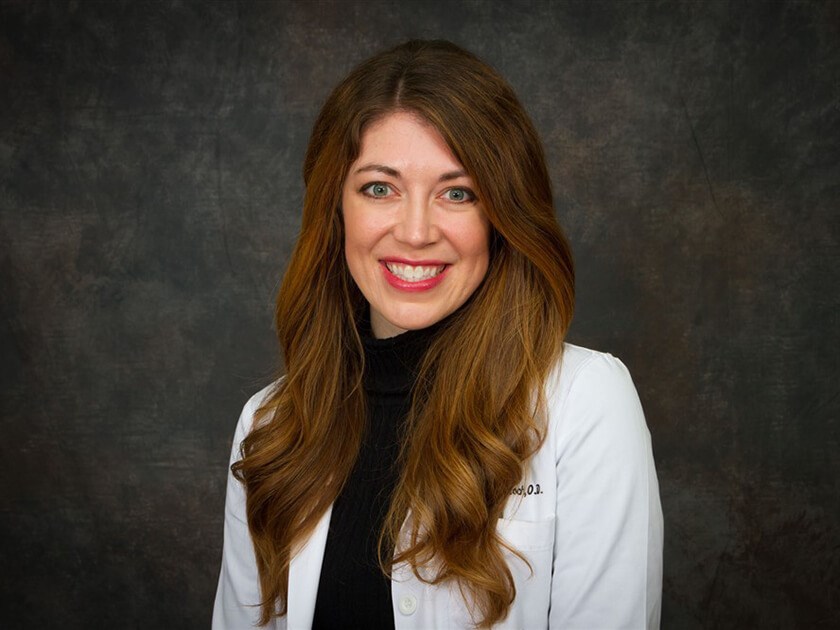 As a consultative optometrist, Julianne Koch enjoys seeing patients of all ages with a wide range of concerns. With a doctor of optometry degree, as well as several years of practicing in a medical optometry and ophthalmology settings, Dr. Koch is able to detect, treat, and manage a range of conditions, injuries, and ocular diseases that affect the wellness of our many patients. With plenty of diverse experience under her belt, Julianne brings her positive attitude to every patient she encounters.
Dr. Koch completed her undergraduate education at University of Arkansas, Fayetteville where she earned her bachelor's degree in Biology. Following this she attended the Southern College of Optometry in Memphis, TN. After graduation, she practiced in Little Rock, Arkansas in an Ophthalmology clinic for two years before moving to Middle Tennessee to practice at an Ophthalmology clinic in Murfreesboro, TN. Because of this experience, Dr. Koch has extensive knowledge from managing diseases such as glaucoma, cataracts and dry eye disease.
Skills and Specialties, associations 
As a credentialed optometrist with a doctorate, specialized training, and state licensure, Dr. Koch is able to identify, diagnose, and treat a range of conditions and disorders that affect the eyes and their related structures. Her special interests include offering premium intraocular lenses and dry eye treatment and management to those who need it. Dr. Koch is a member of both the American Optometric Association and the Tennessee Optometric Association. She is Vice President of the Middle Tennessee Optometric Association.
In her free time, Dr. Koch enjoys yoga, hiking, camping, and anything outdoors. She lives in East Nashville with her husband, daughter, and dog. She also likes reading and runs a women's book club. Dr. Koch and her husband are both Arkansas Natives and University of Arkansas Alumni. They enjoy watching Razorback sports and rooting on the Hogs.
Reviews
"I highly recommend Wang Vision Institute. I completed my initial consultation and staff worked with me to provide the safest options. They educated me on other options and the health of my eyes. I opted for lens implant and I have been very pleased with my results. This surgery has enhanced my quality of life by improving my vision for everyday task such as driving at night. The staff walked me through the entire process, they were very courteous, professional and they eased all my fears of surgery. If anyone is hesitant please do not be because you will be in good hands. Kayla Sinyard so was nice and caring. Dr. Guduru did an amazing job on my eyes! I have no regrets! It's definitely worth it"
J.C.
Google
"Job well done!!! Congratulations on a fine working team. I personally want to say thanks to the entire team but a few people stand out to me from the first phone call to the helpful hands passing me back into my husband arms... Janeane, Baileah Kell, the first young lady who called my name to start the process (I'm sorry I can't remember her name), Dr. Zimmerman, Cameron, Scott, James, and Dr. Jones Each of you have a special talent and role on your team. We want to say thanks for taking the time to care and share your knowledge with us to help us make a wise decision on our journey with you. Your care after we left the clinic was extremely helpful with giving me a number to call for any questions or concerns, and Dr. Jones calling me the next day to check in with me was also very comforting. Thanks for giving me a great vision that I've not experienced in Over 43 years!! High five to the entire team. Keep up the good work. Thanks again, Penny & Trent Price"
P.P.
Google
"Dr Guduru performed my eye surgery on both eyes. He remove my original lenses and installed the Forever Young lenses. The procedure went very well with no discomfort. The staff were all very professional and took very good care of me. I highly recommend Wang Vision Institute."
R.A.
Google
"I can't say enough good things about my experience with Dr.Wang, Dr.Wysh, Jada, and Cameron. They were very professional and helpful in understanding and walking me through the process for my surgery. I would highly recommend them and any of the staff to someone looking to fix their eyesight."
J.C.
Facebook
"I had the SMILE operation at WVI. It was very quick and the staff were all very helpful. Cameron was accommodating and transparent when discussing prices and Dr. Jones and Scott made the surgery quick and painless. Overall a great experience that I'd recommend others to."
Y.X.
Google
Related Posts