Welcome Dr. Kyle Jones to the WVI Team!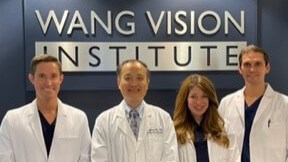 Wang Vision is proud to introduce our new doctor, Kyle Jones, M.D., to the WVI team. Here at Wang Vision, we focus on creating a team of experts with top-notch doctors so our patients can experience the best care possible. 
Dr. Jones is a graduate of the University of Florida where he received his Doctor of Medicine degree. He then completed his ophthalmology residency at Yale followed by a refractive eye fellowship at John A. Moran Eye Center at the University of Utah.
Dr. Jones has published work in numerous journals and lectured on a variety of research topics in ophthalmology. When not at work, Dr. Jones enjoys hiking, biking, traveling, and cooking. His favorite Nashville restaurant so far is Saint Añejo.
We are so excited to have Dr. Jones on our team, and can't wait to see his impact at Wang Vision.